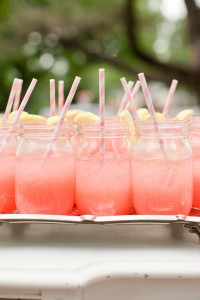 Signature Cocktails
Signature cocktails are all the rage this wedding season. Food and drinks are usually pretty generic at weddings, with a signature cocktail you can add your own personal touch to the menu. There are several ways to create a one of a kind drink just for your wedding!
Partial Open Bar
I recently attended a country themed wedding. The reception was beautiful with lots of homemade touches. The couple was on a budget and couldn't treat their guests to an open bar, but didn't want to leave out guests that couldn't afford a pricey drink. So instead they created their own signature cocktail. Guests could freely grab as many cups of the cocktail as they wanted without a price tag. They stayed within their budget and their guests loved the drink and the gift.
*Suggested Touch*
The couple also turned their signature cocktail into a party favor by allowing guests to keep the decorated mason jar!
His and Hers
Many couples don't necessarily agree when it comes to alcohol. Guys generally like hard liquor or beer, where as women tend to like martini's or fruity drinks. If you and your other half can't quite agree on one signature cocktail then do two!
Two is always better than one right!?
You can have generic names like below or create your own cocktail names using your theme or first or last names. Be creative with the flavors! Incorporate your favorite alcohols and mixers to create a one of a kind libation. Ask your friends and family what kind of cocktail they think you are, it's a fun jumping off point that can be done as a game at a wedding shower or bachelor party.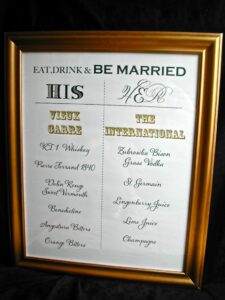 Theme Cocktails
Match your drink to the theme and colors of your wedding! Tying all of your wedding theme together right down to the food and drinks can really get your guests in the mood for a party. A formal night wedding might call for creative champagne or wine spritzer, where as tropical drinks might be perfect for a beach wedding. You can match your colors too! Green and white, maybe a mojito! Black and red, create a signature Cosmopolitan. The possibilities are endless.
Whatever signature drink you come up with keep a few things in mind.
Keep it simple! If you get overly creative there is a chance your guests might not like it.
Check with friends, family, and caterers to help you decide! It doesn't have to be a big secret.
Have your cocktail be the star of the bar. Jazz up the glassware or use berries, fruit slices, grated chocolate, or sprigs of herbs to set it apart and highlight with a pin spot light.
HAVE FUN and drink responsibly!